Sarkkara Upperi / Varatti / Puratti – Jaggery Banana Chips is a snack usually made during festival season in Kerala like Onam and Vishu as part of a Sadya meal.
To make this snack you will need raw banana and jaggery. I found some at my local Indian grocery store; so I thought of making the absolutely delicious Sarkkara Upperi / Varatti / Puratti – Jaggery Banana Chips. It is sweet, spicy, and crispy but still super healthy. You can store it in an airtight container for up to a week without having to refrigerate. You can also check my other Onam recipes here.
If you try this recipe out, please hashtag your photos with #MozisMenu on Instagram and tag me with @MozisMenu. I love seeing your takes on my recipes!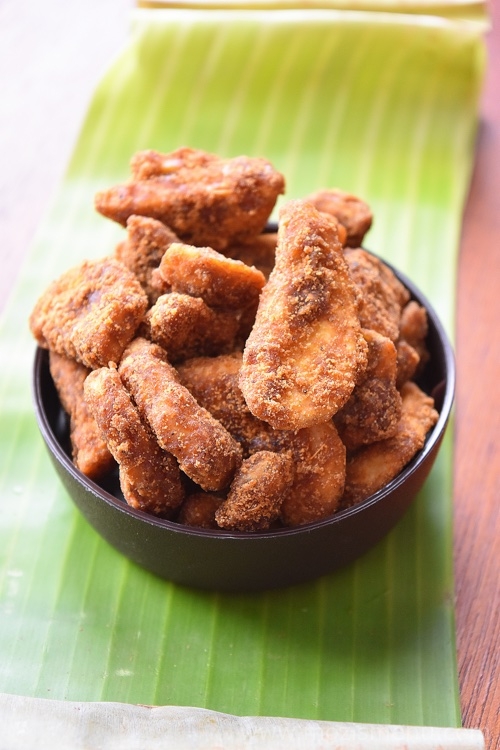 I have a bite-sized video to show you how to make this recipe.
Ingredients
Raw (unripe) Banana / Plantain / Nendram Kaaya / Ethakka – 2, peeled & chopped
Dry ginger powder – 1½ tbsp
Cardamom Powder – 1 tsp
Cumin Powder – 1 tsp
Granulated sugar – 2 tbsp + 1 tbsp
Rice flour – 2 tbsp (if you have Idiyappam flour, you can use that as well)
Coconut oil (or) any cooking oil – to deep fry
Jaggery Syrup:-
Jaggery – 200 g
Water – ½ cup
Instructions
Take the raw bananas and peel the skin by inserting the knife a little (not too deep and don't touch the banana) as shown in the photo below.
Soak the banana in water to avoid darkening.
Then cut the banana lengthwise and chop it into equal sizes (don't chop it too thin).
 Again soak it in water for 10 minutes.
Heat a pan, add the rice flour. 
Stir it continuously for 1-2 minutes or till it becomes slightly warm. Transfer it to a bowl and keep it aside (if you have Idiyappam flour, then you can skip this step).
Take a deep bottomed pan, add jaggery and ½ cup of water.
 Boil it till it melts completely. Wait till it slightly thickens (like Honey's consistency).
Then strain it with a sieve to remove impurities and keep the jaggery syrup aside.
Use a sieve to drain the water from the chopped banana pieces before frying.
Keep it aside for 2 minutes to drain the water completely.
Heat oil in a deep bottomed heavy pan over medium flame. Add the banana pieces. 
Fry it till it becomes light brown (it should take about 20 – 30 minutes to fry).
Transfer it to a plate and allow it to cool down.
In another pan, add the jaggery syrup. 
Once it starts to boil, add the fried bananas and sauté well.
Add cardamom powder, and cumin powder.
Then add 2 tbsp of sugar and mix it well till the bananas get coated completely.
Now add dry-ginger powder and mix it again.
In a bowl, take 1 tbsp of sugar, roasted rice flour together and mix it well.
Add this mixture little by little (as needed) to the jaggery coated bananas and mix it till it changes to a dry consistency. 
Then keep it aside to cool down completely. Then store it in an airtight container and keep it up to a week.
Sarkkara Upperi / Varatti / Puratti – Jaggery Banana Chips is now ready to serve!
Notes
Fry the chips till it becomes crispy and golden brown (otherwise it will become soggy).
Make sure the Jaggery syrup becomes slightly thickened (like honey). If it's watery, it won't coat the banana properly.
Soak the chopped bananas in water (otherwise they will darken).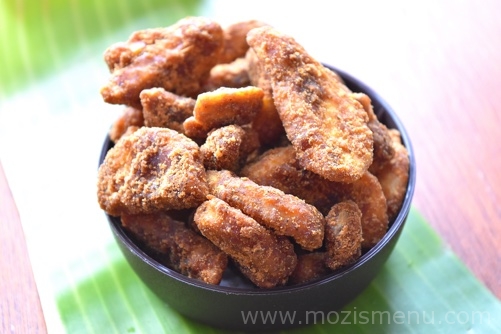 Summary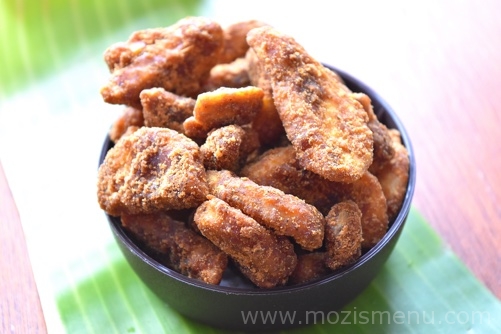 Recipe Name
Sarkkara Upperi / Varatti / Puratti - Jaggery Banana Chips
Author Name
Published On
Preparation Time
Cook Time
Total Time