Chicken Tikka Biryani an aromatic, spicy and delicious treat for everyone who loves chicken. Chicken Tikka is great for grill parties as it can fulfill a crew as an appetizer.Chicken Tikka Biryani adds one more layer of sophistication to the basic Chicken Tikka. The specialty of this biryani is the smoky smell.
If you try this recipe out, please hashtag your photos with #MozisMenu on Instagram and tag me with @MozisMenu. I love seeing your takes on my recipes!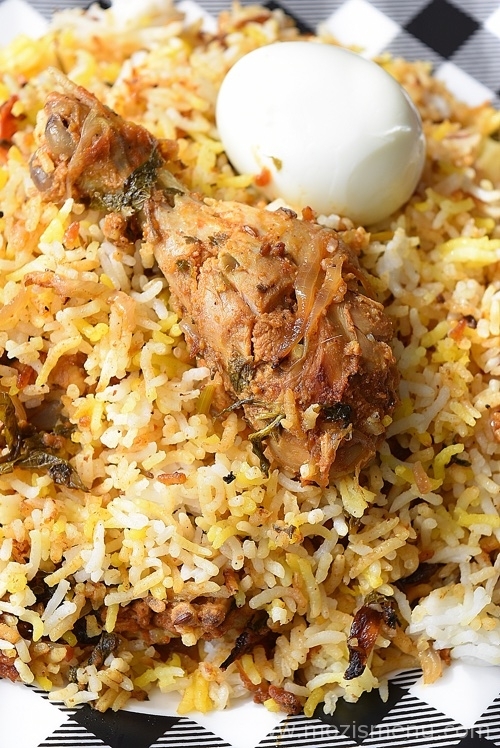 The trick to making any meal quickly is a little bit of foresight and planning. Marinating the chicken overnight adds a gorgeous, perfect, warm hue to the chicken. However, if you forget to marinate, don't worry… you can get good results if you marinate the chicken for just 2 hours before frying. You can also check my other Biryani Recipes.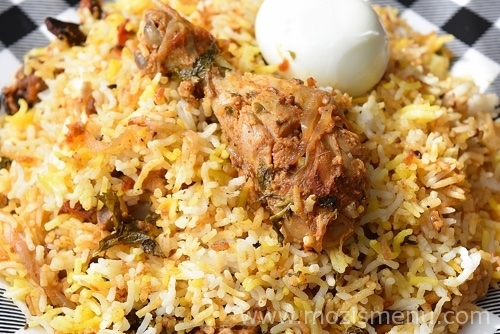 Prep Time
15 minutes + 2 hours marination time
Ingredients : Biryani masala
Onion – 2, sliced
Tomato – 2, sliced
Green chili – 4, slits
Ginger-garlic paste – 1 tbsp
Yogurt – 1/2 cup
Kasoori methi – 2 tsp
Mint – 1 cup, chopped
Cilantro (coriander leaves) – 1 cup, chopped
Red chili powder – 1 tsp
Coriander powder – 2 tsp
Roasted cumin powder – 1 tsp
Garam masala – 1/2 tsp
Turmeric powder – 1/4 tsp
Salt – To taste
To Temper
Oil – 2 tbsp
Cardamom – 3
Cloves – 5
Bay leaf – 1
Shahi Jeera – 2 tsp
Chicken Tikka
Chicken – 1 kg
Yogurt – 3 tbsp
Ginger-garlic paste – 1 tbsp
Kashmiri red chili powder – 1 tbsp
Coriander powder – 1 tbsp
Roasted cumin powder – 1 tsp
Garam masala – 1/2 tsp
Turmeric powder – 1/4 tsp
Pepper powder – 1 tsp
Lemon juice – 2 tbsp
Mustard oil – 1 tbsp
Salt – To taste
Biryani Rice
Basmati rice – 2½ cups
Water –  3¾ cups (refer to notes)
Salt – 1 tsp
Ghee – 1 tsp
Cardamom – 2
For Garnishing
Onion – 1, sliced
Ghee – 1/2 tsp
Rose water – 1 tbsp
Milk – 2 tbsp
Saffron – few strands
For smoky flavor
Charcoal – 1
Ghee – 1/2 tsp
Aluminum foil – 1 small piece
Instructions
Add the items under 'Chicken Tikka' except the chicken and mix it all together into a paste.
Make 2 – 3 shallow slits in medium sized chicken pieces (don't need for small pieces). Mix the chicken with the tikka masala. Let it marinate for at least 2 hours (overnight is preferable) to get a nice rich flavor.
Clean and soak the rice in enough water for 30 minutes.
Boil water in a deep bottomed pan, and add ghee, cardamom, and salt. Once it starts rolling boil, add the soaked and drained rice and close it with a lid. Cook the rice until the rice absorbs all the water (don't overcook).
Add the items given under 'To temper'. Add onion and sauté till it becomes translucent.
Add ginger-garlic paste and green chili and stir it till the raw smell goes away. Add tomato and sauté till it turns mushy.
Add cilantro (coriander leaves), mint and stir it. Add kasoori methi, red chili powder, coriander powder, roasted cumin powder, garam masala, turmeric powder, salt and mix it. Let it cook till the raw smell goes away.
Add yogurt and stir it well. Let it cook for 5 to 10 minutes.
Meanwhile, heat oil in a pan and fry the marinated chicken pieces till it gets done.
Add the fried chicken tikka to the biryani masala, and let it cook for 2-3 minutes.
Heat a charcoal piece on fire with the help of tongs till it becomes red (meaning till it becomes too hot). Place a small piece of aluminum foil on masala and place the hot charcoal on it and pour a tsp of ghee on top of it (adding ghee is to bring a favorable smell from charcoal.). Then close it with a lid immediately for 10 – 15 minutes on low flame (to spread the smoke smell in the masala.)
Fry sliced onions till they become golden brown. Then transfer it to a kitchen paper towel to drain the excess oil.
Soak a few saffron strands in 2 tbsp of hot milk till the milk color changes yellow.
Remove the hot charcoal and spread the rice over the masala and sprinkle the saffron milk, rose water, and ghee. Then sprinkle fried onion and cilantro.
Wrap it with aluminum foil and place the lid and let it get "dum" for 8 – 10 minutes on low flame.
Chicken Tikka Biryani is ready to serve.
Notes
If you want to add vibrant color to your chicken, add a pinch of red color while making chicken tikka paste.
You can taste the marinade paste before adding chicken to check for salt and spice.
While adding salt to the marinade paste, it needs to be a bit salty to make a perfect tikka.
Placing charcoal is an optional step, but it gives a nice smoky flavor to the Biryani and makes a perfect Chicken Tikka Biryani.
I  used 1½ cup of water for 1 cup basmati rice. It may vary depending on the type of basmati rice you are using.
Don't overcook the rice. It has to cook only 80%. Otherwise, it will become soggy while you make "dum".
The flame must be low while making "dum" or it will burn the bottom.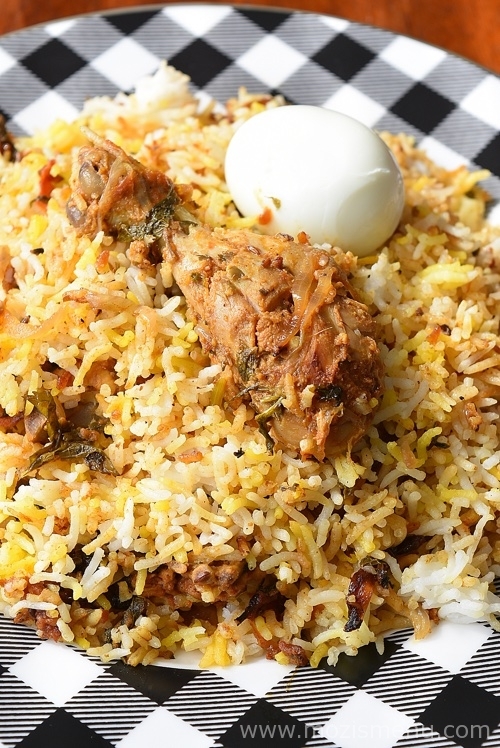 Summary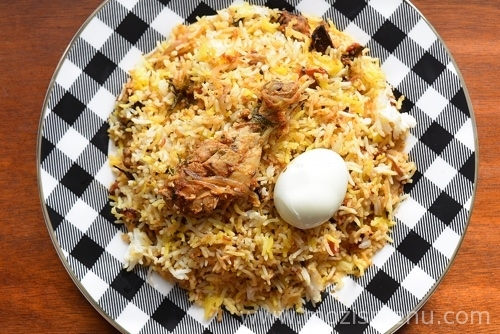 Recipe Name
Author Name
Published On
Preparation Time
Cook Time
Total Time
Average Rating





Based on 2 Review(s)