Happy Valentine's Day to everyone. For a simple, but sparkling valentine day, nothing shines quite like the Red velvet cake.Red Velvet Chocolate Chip Cupcake recipe is a perfect way to finish your valentine day dinner.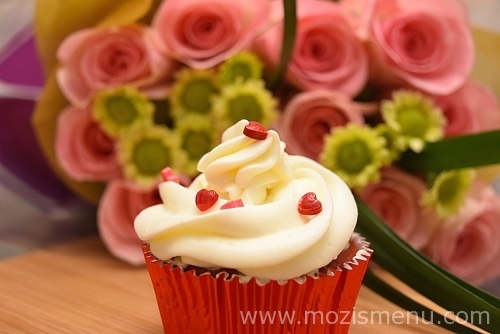 This Red Velvet Chocolate Chip Cupcake is a masterpiece of flavors, textures, and frosting. I'm so excited to share this recipe with you. Most people who have never had red velvet cake before think it's strawberry flavored or tastes like chocolate cake. It's easy to see why that's the case when most red velvet cakes are vibrant red in color and cocoa powder is generally used as an ingredient. Also, I've added chocolate chips to the batter.
If you try this recipe out, please hashtag your photos with #MozisMenu on Instagram and tag me with @MozisMenu. I love seeing your takes on my recipes!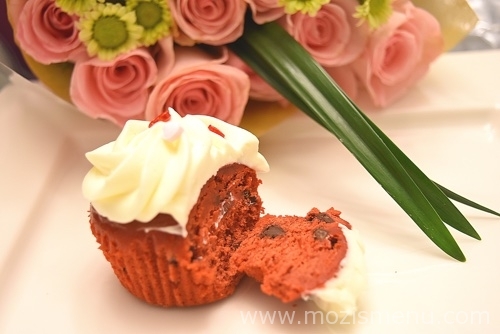 Ingredients
Cake flour – 2 1/2 cups
Butter – 1/2 cup
White sugar –  1 1/2 cups
Eggs – 2
unsweetened cocoa powder – 2 tbsp
Semi-sweet chocolate chips – 3/4 cup
Red food color – 1 1/2 tsp
Buttermilk – 1 cup
Salt – 1 tsp
Vanilla extract – 1 tsp
Baking soda – 1 1/2 tsp
White vinegar – 1 tsp
Instructions
Preheat oven to 350 degrees F ( 175 degrees C ).Take unsweetened cocoa powder in a bowl, add food color, 1/4 cup buttermilk, mix it well and keep it aside (if using liquid red food color, add 2 ounces/59 ml and there is no need to add buttermilk.)
Take another bowl. Add the rest of the buttermilk, add Salt, vanilla extract, mix it well and keep it aside.
Beat the butter until soft (about 1-2 minutes). Add the sugar and beat until light and fluffy (about 2-3 minutes). Add the egg and beat until it incorporates.
Add the cocoa food color mix to the above mixture and beat it thoroughly. 
In a large bowl, sift the cake flour and alternately add the sifted cake flour and buttermilk to the above mixture, in three additions (begin it and end it with the flour.)
In a small cup, combine the vinegar and baking soda. Allow the mixture to fizz and then quickly fold into the cake batter.

Add the semi-sweet chocolate chips to the batter and stir it until evenly distributed. Line the cupcake liner in the cupcake tray.
Divide the batter evenly among the cupcake liner about 3/4 full and smooth the top with an offset spatula or the back of a spoon or shake the cupcake tray gently to make the batter even.
Bake in the preheated oven for approximately 18 – 23 minutes or until a toothpick inserted in the center of the cupcakes comes out clean. Allow it to cool completely before frosting. 
Red Velvet Chocolate Chip Cupcake is ready.
Notes
The first toothpick refers to the unbaked cupcake and the second toothpick(which come out clean) refers to the baked cupcake (the red color is the red stain).
If using liquid food color, add 2 full ounces (59 ml).
Bring all ingredients to room temperature.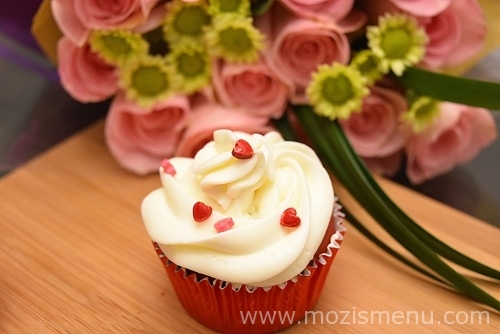 Summary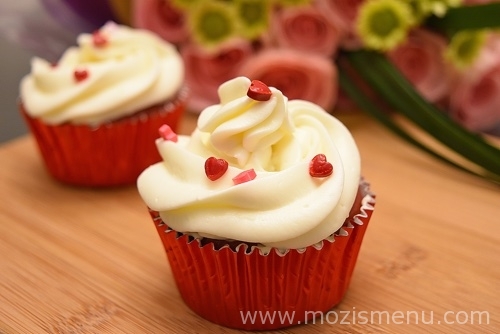 Recipe Name
Red Velvet Chocolate Chip Cupcake
Author Name
Published On
Preparation Time
Cook Time
Total Time
Average Rating





Based on 1 Review(s)